Ring Around The Statue
This silk painting was done from an image of a statue in my neighborhood. I made up the garden around her. This scarf can be worn as or framed as wall art.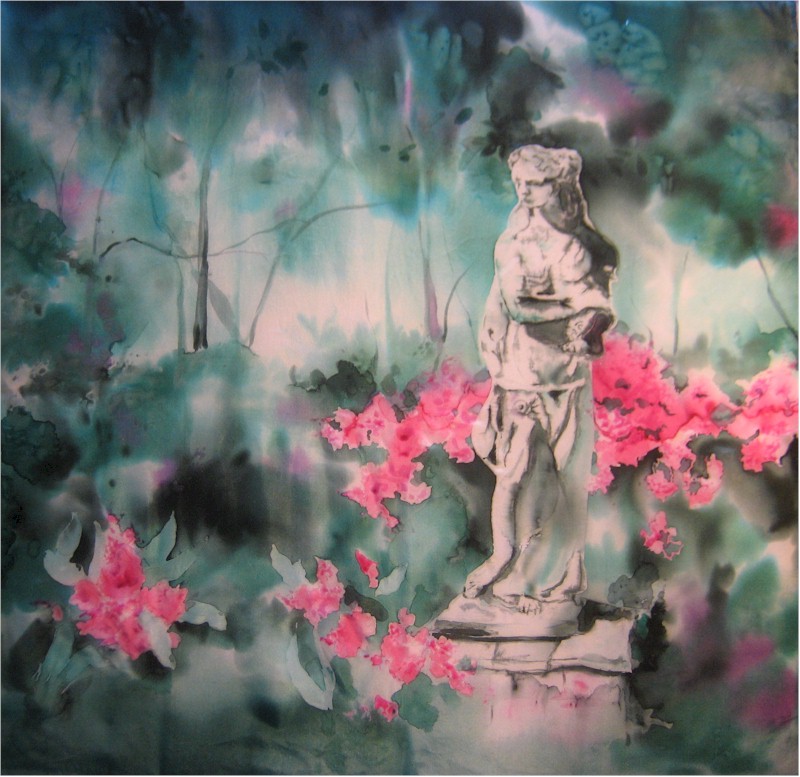 This unique accessory will enhance your entire outfit and you will get many compliments on your individual fashion style.
My process: I paint my scarves on white Habotai 100% silk scarves with hand-rolled hems. I stretch the scarf on a frame and then, after drawing the design, I first apply a water based resist. The resist is used to prevent the dye from reaching other areas of the fabric -- it fences in the dye.
Once the resist is dry, I use the finest French silk dyes to paint the background and also drop the dye into the designed areas. Finally, I use a thickener mixed with dye to paint in fine details. The thickened mixture is a syrup consistency and this helps to keeps the dye in place.
The scarf is then rolled in newsprint and steamed in a large pot on my stove for 2 hours. The excitement comes when I unroll the scarf to see the vibrant colors. I then wash the scarf with a special silk soap that removes the resist, the thickening agent, and restores the silk to its soft natural "hand". After pressing, it is ready to wear.
Silk is a durable fabric that can be hand washed, dry cleaned, and ironed.